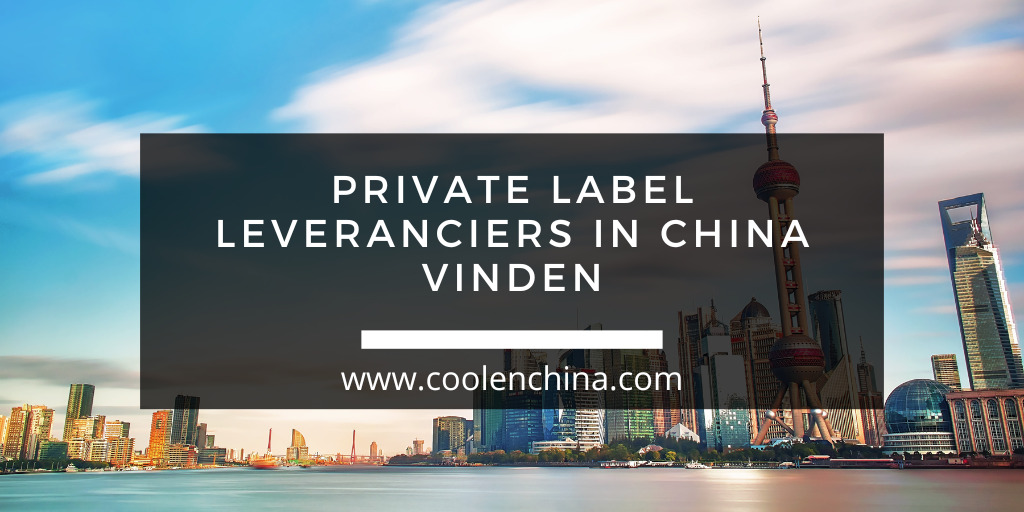 Private label leveranciers in China vinden
Op zoek naar private label leveranciers in China? Door potentiële fabrieken in China met elkaar te vergelijken, kunnen Westerse bedrijven de meest betrouwbare zakenrelaties opbouwen buiten de EU. Hieronder staan enkele tips en advies voor Westerse bedrijven en importeurs die hun inkoopproces op dit gebied willen verbeteren.
Wat is private label productie?
Private label productie, ook wel Private Label Manufacturing (PLM) genoemd, is een proces waarbij de productie van private label producten aan externe leveranciers wordt uitbesteed. Dit creëert een uitstekende manier voor bedrijven om een uniek product (zonder al te veel gedoe) te laten maken.
Zodra de productspecificaties zijn bepaald kan doorgaans de zoektocht naar de juiste fabrikant beginnen. Hierbij wordt rekening gehouden met factoren zoals productiekosten, kwaliteitscontrole, levertijden, grondstoffen en transport.
Door de juiste leveranciers te selecteren en regelmatig kwaliteitscontroles uit te voeren, krijgen importeurs meer zekerheid over de kwaliteit en levertijd van private label producten uit China.
Waarom private label leveranciers uit China?
De productiekosten voor private label producten uit China liggen een stuk lager dan in Europa. Dit biedt Westerse bedrijven een voordelige manier om hun huidige assortiment uit te breiden, zonder in extra apparatuur of personeel te investeren.
Door de productiekosten te verlagen creëren importeurs meer kansen om hun winstmarges te verbeteren. Dit maakt van private label productie tegenwoordig een aantrekkelijke optie voor bedrijven die winstgevend willen importeren uit China.
Wat zijn de risico's van private label productie?
Natuurlijk zijn er enkele risico's verbonden aan de productie van private label. Een groot risico is dat het bedrijf minder controle over de productkwaliteit heeft. Om dit risico tot een minimum te beperken, kunnen bedrijven doeltreffende maatregelen nemen, zoals regelmatige inspecties van het fabricageproces.
Om de risico's van valse CE-markeringen te verminderen, is het controleren van bedrijfsregistraties bij de Chinese overheid essentieel. Bij enige twijfel over de betrouwbaarheid van leveranciers kan de hulp van een externe partij uitkomst bieden.
Tips om private label leveranciers in China te vinden
Hieronder staan enkele tips die kunnen helpen om betrouwbare private label leveranciers in China te vinden:
Doe vooronderzoek
Niet alle private label fabrikanten in China zijn vergelijkbaar. Het is belangrijk om grondig vooronderzoek te doen of indien gewenst doorborduren op voorselecties. Dit zorgt ervoor dat bedrijven de juiste zakenpartners vinden voor hun producten.
Wees duidelijk over vereisten
Zorg ervoor dat leveranciers vanaf het begin een duidelijk beeld hebben over de specifieke wensen en vereisten. Dit voorkomt misverstanden of miscommunicatie verderop in het proces.
Heb realistische verwachtingen
Houd er rekening mee dat China een unieke markt is met een unieke reeks aan uitdagingen en kansen. Desondanks is het verstandig om gedurende het inkoopproces realistische verwachtingen te hanteren. Wees bereid om plannen zo nodig aan te passen.
Wees geduldig
Het proces van samenwerken met private label leveranciers in China kan soms traag en frustrerend zijn. Maar met wat geduldig kunnen uiteindelijk de gewenste resultaten worden behaald.
Meer weten?
Naast het vinden van ​​geschikte leveranciers of producenten helpen wij Westerse bedrijven met het optimaliseren van hun productielijn. Heb je meer informatie nodig om de juiste private label leveranciers in China te vinden? Neem dan gerust contact op met Coolen China.