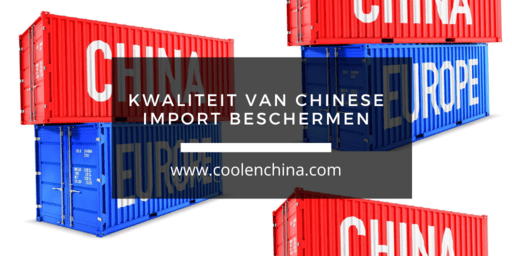 Kwaliteit van Chinese import beschermen

‍‍China staat bekend als de grootste fabrikant ter wereld. De Aziatische grootmacht produceert elk jaar voor miljarden aan producten en is daarmee goed voor bijna een derde van de wereldwijde productie.
Westerse bedrijven en importeurs zien het land dan ook steeds meer als lucratieve groeimogelijkheid. Toch verloopt de import vanuit China niet altijd zoals verwacht omdat deze manier van zakendoen ook risico's met zich meebrengt.
Vooral bij startende ondernemers heerst een bepaalde angst voor negatieve reacties van klanten, omdat achteraf bijvoorbeeld blijkt dat het jonge bedrijf met "onethische" Chinese leveranciers of fabrieken heeft samengewerkt.
Wat zijn de risico's van zakendoen in China?
China heeft de reputatie een bron van namaak producten te zijn. Het probleem is dat het voor importeurs moeilijk is om te bepalen welke fabrieken hoge kwaliteit producten leveren en welke leveranciers dit simpelweg niet doen.
Het uitvoeren van kwaliteitscontroles geeft importeurs meer zekerheid over de kwaliteit van hun bestelling. Veelvoorkomende risico's die horen bij het zakendoen in China zijn o.a.
Importeren van slechte productkwaliteit. Dit brengt een reeks aan klachten met zich mee, waaronder reputatieschade en ontevredenheid bij klanten.
Stilstand van productielijn zorgt voor vertragingen en gemiste deadlines.
In verband worden gebracht met twijfelachtige arbeidspraktijken.
Beschermen van productkwaliteit uit China
Als importeurs veilig en vertrouwd de inkoop van producten uit China willen verbeteren, is het van belang dat zij zichzelf tegen onnodige supply chain risico's kunnen beschermen. Ook bij de selectie van nieuwe leveranciers is het verstandig om bijvoorbeeld eerst een fabrieks audit uit te voeren.
Steeds meer Westerse bedrijven werken hiervoor samen met een externe partij, omdat deze de benodigde kennis en expertise in huis heeft om de productielijn op locatie in China te controleren.
Professionele kwaliteitsinspecteurs gaan dan bij de fabrikant langs en controleren o.a. de fabriekshal, productieproces, apparatuur, machines en gebruikte grondstoffen. Vervolgens wordt uit het inspectierapport duidelijk of de productielijn voldoet aan de gestelde kwaliteitseisen.
Meer weten?
De kwaliteit van importproducten uit China beschermen is voor Westerse bedrijven een belangrijk onderdeel van een winstgevende supply chain. Meer weten? Neem dan gerust contact op.