Dropshipping from China? Always check the risks!
In recent years, a decent number of young individuals have started a dropshipping business from China. The current e-commerce market comes with a wide range of interesting options. One of them is starting your own webshop, without the common investments.
Dropshipping also contains one of the most promising e-commerce revenue models. As an entrepreneur you can sell countless products, without your own stockroom/warehouse.
However, this popular method seems to bring some negative experiences as well. Therefore, it's always a good idea to check the facts before you start your own webshop. This way, you don't have to deal with any unpleasant surprises, during the process of importing goods from China!
In this article you will learn more about dropshipping and why dropshipping from China is so popular nowadays. You will also find more information about the additional risks, so that you are well aware of potential pitfalls!
What is dropshipping?

The term dropshipping means that every order is sent directly from the supplier to the customer. As a webshop owner you don't need a stockroom, because your digital cash register sends the order information directly to the supplier in China. He will then ship the product at once on your customer. Your webshop is the link between your customers and the manufacturer.
Dropshipping therefore ensures that your only responsible for the advertising and marketing of your products. You don't have to worry about packaging and / or shipping orders.
Why is dropshipping from China so popular nowadays?

The country of China is the second largest economy in the world. China also is known as the world's largest exporting country. This makes the country the largest trading partner for many other countries in Asia.
In general, it makes sense that more and more Western companies and entrepreneurs are starting their own dropshipping business from China. It's mainly because of the large number of lucrative earnings.
In practice however, this doesn't always appear to be the case. You can read more about this subject below. First, you will find more about the benefits of dropshipping, because many new entrepreneurs prefer this innovative method of selling products.
Import at low purchase prices

In the past, China has invested heavily in factories, infrastructure and technological developments. This combined with low labor costs, numerous Chinese suppliers can offer their products at a relatively low purchase price. Suppose you're still looking for affordable products to fill your brand-new web shop? Don't worry, there are plenty of Chinese manufacturers who can help you with this.
Improved quality requirements within EU countries

n general, most products from China meet the quality requirements set within EU countries. The Chinese production line is therefore closely monitored through professional quality inspections. For most importers a little purchasing assistance on the way can be the same as living in luxury.
Will you soon start importing products from China? Then ensure that the quality of products is maintained by various quality checks at the manufacturer.
Dropshipping from China comes with relatively low start-up costs

When you start dropshipping from China, you usually enjoy relatively low start-up costs. For example, you don't have to invest in a depot or storage space for your stock.
In addition, you don't have to take any other large investments for your company into account. For example, consider the inventory costs for a completely new cash register system, personnel, insurance and other equipment.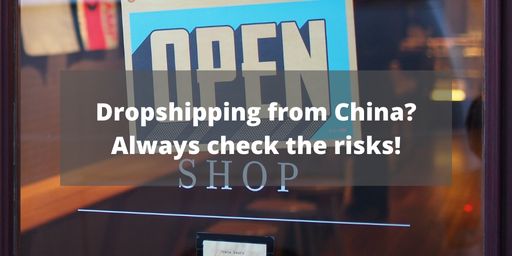 Unlimited access to product catalogs

In China, you will find decent suppliers for just about any product available. Most manufacturers are ready to cooperate with Western entrepreneurs. This gives you unlimited access to various product catalogs including:
Aliexpress
DealExtreme
DX.com
GearBest
Banggood
1688.com
LightInTheBox
MiniInTheBox
DHgate
Despite this, it is common practice for Western partners to have some knowledge of the Chinese language, as well as the business culture in China. Some aspects of the buying process are slightly different in China.
If you have little experience with this, it's best to maintain this contact through an external partner. Coolen China has been building strong trade relationships between Western clients and Chinese suppliers for many years now. Is your company or webshop in the need any assistance in approaching suitable suppliers? Coolen China is always happy to help you do business in China!
What are the risks of dropshipping from China?

When it comes to dropshipping, you can quite easily start your own web shop / company. However, dropshipping from China also contains a number of potential risks. Most of these pitfalls arise when shipping your products to Europe. Below you will find a number of dropshipping risks encountered by many entrepreneurs.
Poor quality of products

Before you start your own dropshipping business, you should think about the products you want to sell on your web shop. In addition, you will have to look for suitable manufacturers for the products. In case you don't have enough time for this, an external party can help you with this.
This associate will communicate with your Chinese business partners on behalf of your company. This way you are assured that new contacts in China will be maintained properly. You can also do this by building on your existing Chinese contacts.
Especially when you are just starting with dropshipping it is essential that you contact the right suppliers. In the long term, the quality of your products will be better preserved. In addition, your future customers are guaranteed to receive the best quality products.
Long delivery times and delays

After customers have placed their order on your web shop, a few other problems may arise. Dropshopping from China regularly goes hand in hand with long delivery times. It usually takes a few weeks for products to be delivered to your customers.
Suppose the first order is placed around the Chinese New Year, the delivery time can be up to at least four weeks. Your future customers will certainly not appreciate delivery times of this kind.
Low margins & high competition

Dropshipping from China generally comes with quite low margins. This creates a modern and lucrative way of doing business. No wonder many Western entrepreneurs are interested in dropshipping.
However, this does not apply to the growing competition in most branches. This seems to be getting higher every day. Just like the amount of entrepreneurs who started dropshipping from China and then stopped again.
Will you soon start dropshipping from China?

Do you want to be assured of a long-term dropshipping company? Or do you simply want your own web shop with nothing but satisfied customers? Then Coolen China is definitely the right business partner for you! Thanks to our extensive range of services, we make the Chinese importing process a lot easier for Western entrepreneurs.